The Everyday Comfort Waist Trainer can instantly slim your waistline up to 5 inches. This trainer is most suitable for people with torso lengths between 11" - 12.5" long.
HOW TO CHOOSE THE RIGHT FIT?
The most IMPORTANT MEASUREMENT IS YOUR WAIST. The perfect fit is one that is snug but does not fit too tightly. After reviewing thousands of customer surveys we recommend you choose ONE SIZE LARGER the waist trainers run small. 
The first time is bound to be hard. There is a good chance that you may even need some assistance to get it on but for a waist trainer to work, it needs to be tight in order for it to shape your body well. After you manage to slip into it, it should feel snug but not too tight..make sense? 

HOW TO TAKE ACCURATE MEASUREMENTS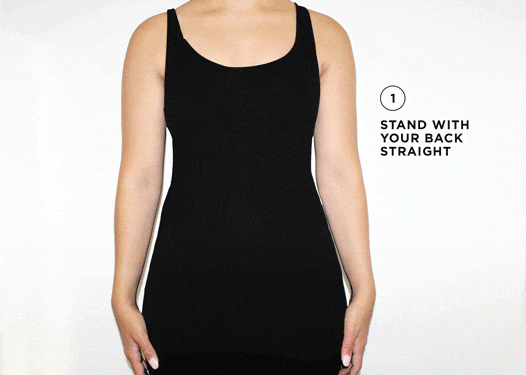 The most important measurement when selecting your perfect waist trainer is, of course, your waist. Using a vinyl measuring tape, measure the narrowest part of your waist, which is typically a couple of inches above your belly button, where there is a natural bend in your torso when you lean to one side. Make sure that the tape is level. It should lie flat on your skin or a very thin tank tap, but it shouldn't be so tight that you can't slip a finger underneath.
Once you've determined your waist measurement, follow the sizing chart for your garment of choice precisely! Every waist trainer on our site has been carefully curated and tested, and we have adjusted the sizing charts to reflect exactly the way they will fit, based on your measurements. Don't simply go with your dress size. Also, note that waist trainer number sizes do not correspond exactly with your waist size; instead, they represent what your waist measurement will be while the trainer is tightened.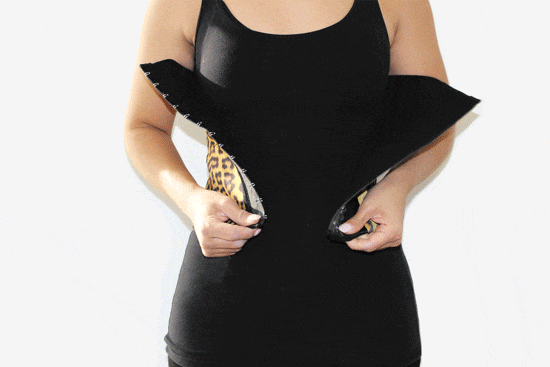 I NEED HELP PICKING A SIZE
Here at Mybirdymax, we want to your experience to be as smooth as possible! That's why we offer a FREE sizing evaluation service. Simply send us your measurements at contact@mybirdymax.com and we'll give you a personalized sizing recommendation.

WHAT IF I PICK THE WRONG SIZE? 
Not a problem! We welcome you to exchange your item(s) by mail in accordance with our Easy Returns policy. If you need helping choosing a size or need to make an exchange just contact us at contact@mybirdymax.com and we'll be more then happy to help!
BREAK IN YOUR WAIST TRAINER
Before you start wearing your waist trainer all day every day, it is going to take an adjustment period. Your trainer needs to be broken in, just like a pair of shoes. If you plan on wearing your waist trainer at a special event, be sure you give yourself adequate time to prepare.
After you try yours on for the first time, only keep it on for about an hour the first day. You can slowly increase the amount of time you wear it each day by half an hour to an hour.
IS WAIST TRAINING SAFE?
Just like any healthy lifestyle practice, waist training is safe when you listen to your body and use common sense. If you are waist training with a garment that fits properly, you shouldn't experience any pain or discomfort. You might be surprised by just how tight a waist trainer can feel if you're not accustomed to it, but it's a feeling you'll get used to—and probably grow to like! But it shouldn't be so tight that you feel short of breath or feel any pain. If that's the case, take it off immediately! It won't work correctly if it doesn't fit.
We also highly recommend that you include core-strengthening exercises as an essential piece of your waist training regimen and healthy lifestyle.
RESULTS
Improves Posture - improves posture by providing back support, which is crucial for women with medium to large breasts. This also helps exercise be more effective and less painful.
Instantly Shapes - while you're waiting for the effects of waist training to fully take effect, our waist trainer gives you an instant hourglass by acting as compression shape wear, cinching in your waist. Essentially, you can have the shape you want all while training your waist to be smaller.
Unnoticeable - If you plan to waist train for multiple hours most days of the week, you'll naturally be wearing it under your clothes and no one will know. It can smooth your body and make your clothes look great while you are waist training.
Thermogenic Effect - sometimes known as the "Sauna Effect", the thermogenic effect will boost your metabolism during workouts and help you target fat burn in your midsection.
FEATURES
Extended bottom slims your lower torso and hips

High-compression latex core shrinks your waistline

Flexible thin steel boning (9) for powerful shaping and hip control

3 rows of large hook-and-eye closures

Cotton-spandex lining absorbs moisture and feels soft against your skin

 
Materials: Cotton 96%, Spandex 4%, 100% latex core, flexible steel boning (9)
FAQs
Q1. How do I track my order?
A. Please allow between 1-3 Business Days for your tracking number to update once you receive your tracking number by email. If you don't see the email in your inbox try checking your spam folder or add contact@mybirdymax.com to your safe sender's list
Q2. Returns Policy
A. We hope you love your purchases, but if for any reason you do need to return something to us, send your item back within 30 days of receiving the product to the address below.

Please allow 5-­7 business days from when the item is delivered for your returned order to be processed. You will be notified via email at the email address listed on your account when your order was placed. Please note that your banking institution may require additional time to process and post this transaction to your account once they have received the information from us (typically 3-­5 business days).

We can only issue a refund to the original form of payment used at the point of purchase. In the event you no longer have access to this account or it is no longer active, we will then process your refund in the form of a check mailed to the address in your customer profile which can take 4-6 weeks to process. Original shipping charges are nonrefundable.
Q3. How much is shipping?
A. Free shipping for all orders
Q4. How long does shipping take?
A. Our hours of operation for shipping are Monday through Friday, 8 a.m. to 6 p.m. PST, excluding weekends and major USA holidays. Orders will ship 1 business day after you order. *NOTE: These timelines do not apply during restocks, new releases & special promotions. Please refer to your order confirmation email for specific shipping details! 
Transit times will vary based upon a few different conditions, including but not limited to:
Total distance between us and you
Whether your parcel is a domestic or international (everywhere else) shipment
What delivery method you select
International delivery usually takes about 1-2 weeks depending on the product and your location. After an order has been placed, it can be tracked through the Track Your Order page!